Dad Won't Decorate for the Holidays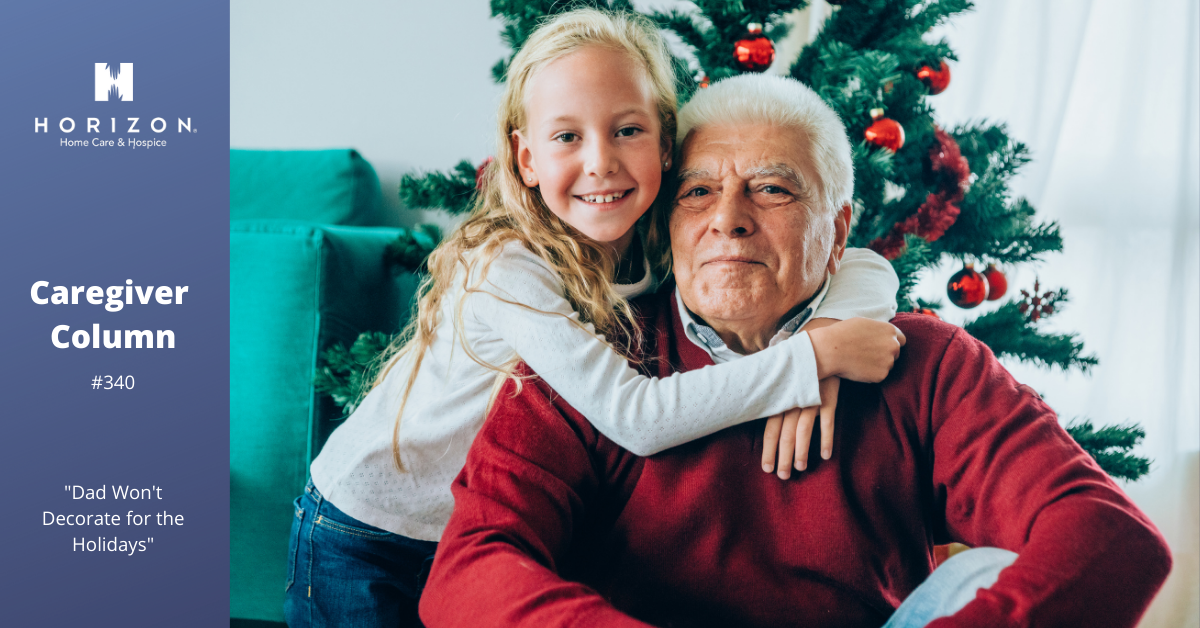 Question
"My father doesn't want any Christmas decorations. My mother is gone, and we don't hold any celebrations at his house anymore as it's too much work for him and the rest of us. He comes to our homes for the holidays.
It's just so very cheerless at his house this time of year! He doesn't want us to drag out the outdoor lights or put up a tree for him. He just says, "Forget it, no one will see them anyway."
None of this feels right to us. What would you recommend we do to add a little bit of cheer to his home?"
Answer
Rest assured that he is not the only elderly person letting go of the traditional holiday decorations, especially after the pandemic we've experienced.
I assume you understand that it is indeed a lot of work to decorate for the holidays. Since you're doing it at your own home, you know that. It does require energy, dexterity, and desire to put up decorations. Let's break this down a bit:
Energy – Putting up the decorations requires locating them in storage, hauling boxes, sorting out the lighting, hanging them up, and in 30 days, reversing the process. Now add 30-40 years to your age, plus a far less able body.
Dexterity – Outdoor decorations often require ladders, cold weather, steady hands, two people, and lots of hot coffee.
Desire – Holidays are times for family gathering. For an elderly person who isn't expecting guests and lives alone, it's not uncommon for there to be far less interest in any form of decorating. It's a bit sad, though oftentimes true. Try as best you can to place yourself in the same situation.
With all of that said, I do have a few recommendations to add cheer and holiday spirit to your father's home this year, possibly lifting his spirit at the same time. Deliver some cheer to his home annually that requires no effort on his part. Several ways you could approach this are:
Have carolers stop by, impromptu. Gather all of the siblings and grandchildren you can. Bring cookies and hot chocolate. Drop off a small tree on his porch that is lighted with a remote control, allowing him to turn the lights on and off from inside (and plan to remove at the end of the holidays).
Take him for an annual Christmas lunch. Drop a colorful poinsettia off at the same time with the promise to remove at the end of the season.
Schedule a day to put up the outdoor decorations. Don't ask if he wants them up. Dad likely feels it's too much work and an imposition for you. In that situation, it's best to just schedule and do. You can downscale a bit if the previous display was elaborate.
The holidays can adapt to Dad's current situation and don't need to become sad and depressing. It takes a bit of effort, and if you rally around him, you can spread joy among everyone in your extended family.
About this Post
Posted 12.04.2021
Latest on the Blog...
Caregiving Advice
Sep 30, 2023
Caregiving Advice
Sep 23, 2023
Caregiving Advice
Sep 16, 2023