Donate
For Questions or To Make A Referral Please
Call: 414-365-8300
Fax: 414-365-8330
The memorial giving process is simple.
You can mail a check (P.O. Box 88828, Milwaukee, WI 53288-0828) or make a credit card donation online (click HERE).
Once your donation is received, you will receive an acknowledgement in the mail or by email, whatever you prefer; this acknowledgement will serve as documentation for your taxes.
A notification letter will be mailed to the designated family member(s) of the person you're memorializing indicating your name and mailing address and the date you made your gift.
Your generosity will be acknowledged in our quarterly Grief Resource Center newsletter and annual report.
Annually, you'll receive a letter containing an overview of all of your donations to the organization during the last calendar year. This may also be used for your tax purposes.
---
Horizon Hospice Memorial Tree
The Hospice Memorial Tree is located in our Hospice in patient unit in Mequon. Many individuals and families choose to honor their loved one by purchasing an engraved leaf or stone which is displayed on the tree. The tree celebrates memories and leaves a legacy of those who have received care at Horizon.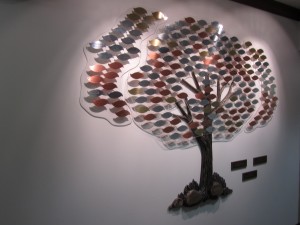 Levels of giving include:
Bronze leaf: $500-$999
Silver leaf: $1,000-$4,999
Gold leaf: $5,000-$9,999
Rock at base of tree: $10,000-$14,999
Plaque at base of tree: $15,000 or more
Often, groups come together to purchase a leaf or stone. Cumulative gifts in honor of an individual are accepted.
If you would like to sponsor a leaf or stone in memory of your loved one, please contact
Marcy Stutzman, Horizon's Director of Development
Phone: 414-586-8341

Email:
Marcy.Stutzman@hhch.net
---
Grief Resource Center Memorial Monument
The memorial monument, located in Horizon's Grief Resource Center in Brown Deer was created to help families who've suffered a loss memorialize their loved one. Small stones are engraved with the name and placed at the base of the monument. Each donor also receives a matching stone to keep with them.
Levels of giving include:
River rock: $100
Yellow jade: $250
Amethyst: $500
Small etching on glass: $5,000
Large etching on glass: $10,000
For more information on any of these opportunities, or to discuss a memorial gift, please contact
Marcy Stutzman, Horizon's Director of Development
Phone: 414-586-8341
Email: Marcy.Stutzman@hhch.net