Horizon's comfort crafters are on the move!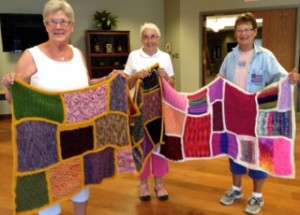 If you are a fanatical knitter and crocheter, you probably have a great desire to make more comfort shawls for Horizon hospice patients. We all recognize the need and know how very much the labors of our fingers are appreciated. It might be the time involved to make a shawl that is stopping you, or maybe you think your skill level is not up to par. It might even be the cost of producing a shawl that is stopping you. No worries! Here is an easier way. You can spend as much or as little time and money on knitting "units" which will be assembled into shawls by the comfort crafters team.
Knit or crochet a piece the width of a piece of paper ( 8 1/2 inches). Make the unit as long as you like, from a few inches to a "wingspan" long. A wingspan is the distance from fingertip to fingertip of your outstretched arms. Maybe your unit will simply be the size it becomes with the amount of yarn you have. Use any yarn, any color. Ask your knitting friends to donate their little balls of leftover yarn. You can make the units plain, patterned, thick, thin, lacy, sparkly…whatever. Bring your finished units to the Grief resource Center and when there are enough, the comfort crafters will meet to sort and assemble the units by crocheting them together to form shawls. These comfort shawls will have the prayers and warm wishes of MANY fiber artists all in one wonderful, colorful shawl.
There are free pattern apps for iPhone and iPad. Stitchopedia and Knitionary are two examples. You may also log onto Ravelry.com, a community of knitters for free patterns and general encouragement.
We are also offering knitting classes and group knitting sessions, led by our fearless volunteer leader, Marge Giralte. No experience is necessary and there is no charge to attend these sessions. Come try it out and drop in whenever you are available!
Alexian Village Comfort Crafters
Meet every Monday from 1:00 – 3:00 p.m.
Alexian Village Club Room: 9255 N. 76th St., Milwaukee, WI 53223
Call Jean Boothby at (414) 357-5105 x 5867 for more information
Heritage of Grafton Comfort Crafters
Meet every Wednesday from 6:30 – 8:30 p.m. beginning August 14, 2013
Heritage of Grafton Great Room (Room #108): 1335 11th Ave., Grafton,WI 53024
Call Marge Giralte at (262) 751-4950 for more information; bring your own beverage